A partnership in pursuing productivity starts here.
From solving staffing challenges to using simpler technology and beyond, next-level healthcare is well within reach.
---
Assess your organization's journey with our Pursuing Productivity workbook, designed to help guide you to the summit of better healthcare delivery.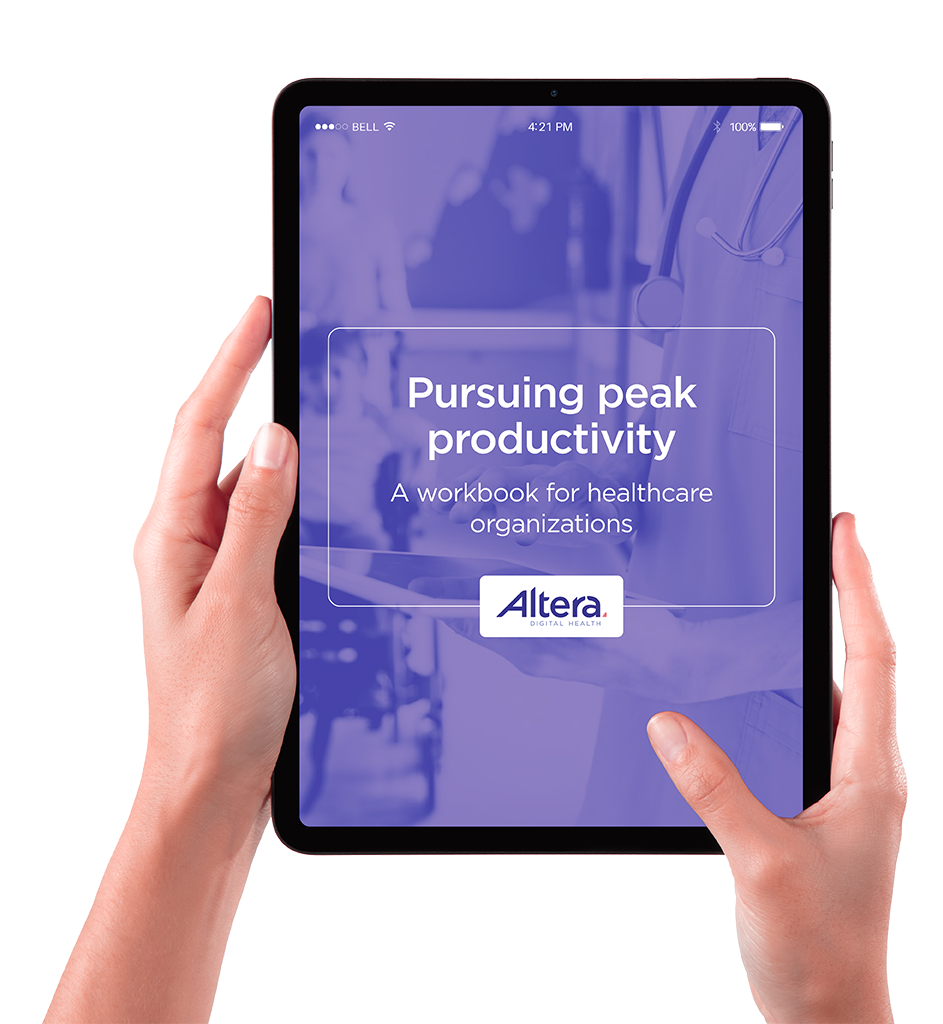 Let's reach the summit of healthcare
Healthcare technology today should be better. And that's an everyday mission we at Altera have set out on and will continue pursuing for our clients, their patients and our shared communities around the globe. At its core, we understand that healthcare IT needs to be easier to access, easier to understand and easier to navigate.
At Altera, we design digital solutions not just for a more productive process—but a more productive interaction between clinician and patient. Not just in theory. But in practice.
Knowing clinicians' days are full of varying priorities and staggering demands, we began to look toward the summit of what healthcare can and should be. Here's what we found:
It was no secret—for those working in healthcare and for those designing solutions for it—that healthcare IT needs a reboot. And so we set on a new path to develop and deploy the Altera Platform of Health. To change the conversation. To help take care of the people your organization interacts with every day.
Our experts refined our Platform of Health and now that we're deploying it, we developed a Platform of Health Field Guide to highlight how this comprehensive healthcare IT system will help unify the clinicians' user experiences, increase reliability and agility, deliver a holistic patient view and improve your financial foundation.
Overall, from a productivity perspective, our goal is to make the journey to the healthcare summit more manageable. So, we believe technology needs to focus less on new products and features, and more on aligning clinical staff to patients—connecting them to information they need throughout their journey in ways that are easier to navigate and understand. Enabling smaller staffs to do more (without overdoing it).
Our clinical and technology experts identified four targeted ways Altera's healthcare technology can help streamline and strengthen your organization's productivity practices:
When our devices work for us, they can enable great things. But when technology gets in our way—when it becomes something clinicians and other users need to maneuver around—it's, in a word, cumbersome. Unfortunately, in the healthcare industry today, cumbersome technology is prevalent and leads to burnout and other adverse organizational effects. For example, physicians spend an average of 16 minutes and 14 seconds using EHR technology per encounter. According to a study published by the Annals of Internal Medicine, the average clinician spends just over 27 minutes with each patient during a hospital visit.
This includes time spent talking to the patient, examining them and documenting the encounter. If technology was more intuitive and could better support the clinician, there could be more time dedicated to engaging with the patient and building a trusting relationship. Altera is focused on providing better healthcare IT to help clinicians drive next-level healthcare and combat burnout.
So, what is Altera doing to develop more intuitive healthcare IT? To make it so that clinicians using our technology are supported the way they ought to be?
We took a big step toward this goal with our Human-Centered Design approach to creating our solutions. Our Human-Centered Design experts have those questions top-of-mind while designing our healthcare solutions. According to our experts, three important facets of designing intuitive technology solutions are: mobility, flexibility and simplicity. For instance, Sunrise™ Air was developed following the Altera Human-Centered Design methodology and leverages new technologies and the native capabilities of modern mobile interfaces. This solution provides a simple, elegant, persona-based mobile experience for "on-the-go" acute providers, floor to floor, and even from the comfort of their homes. Flexible solutions can be used in more ways than just one, eliminating the time- and cost-wasting that can occur. To that point, our Paragon® and TouchWorks® EHR solutions are prime examples of how we've developed intuitive healthcare technologies that truly save time, both in training and further use, since they each provide an understandable platform for the user.
Forward-looking technology
These Human-Centered Design principles help eliminate the creation of cumbersome technology, and we're keeping sights set on what healthcare IT can be. We aim to make each clinician's journey streamlined and simple while also ensuring the patient is getting the care experience they deserve. Humanity and healthcare are already intertwined, and now it's time for our technology to join the mix. With Human-Centered Design, we can achieve more through our solutions, every day. You can learn more about our Human-Centered Design process here.
Staffing shortages are affecting all levels of the healthcare ecosystem—from the smallest independent provider practices to the largest health systems. There are a few main contributing factors putting an unprecedented strain on healthcare systems, including COVID-19 and the subsequent burnout (that compounded the previously existing provider burnout), as well as shortages in teaching faculty for new nurses and a rapidly aging patient population.
What's important to remember is that staffing shortages aren't just with clinicians. Many organizations are also struggling to fill administrative and IT roles as the job market becomes more competitive.
Organizations can't control these factors, but they can control how they respond to them, and they can do everything in their power to support the staff they do have
Increased hospital length of stay
The average length of stay in US hospitals is 6.2 days. Is your organization exceeding that?
Growing admission requests to telemetry beds
Has your organization noticed an uptick in telemetry bed admissions?
Difficulties with onboarding
Does it take a long time for your new hires to get up to speed or have you noticed a higher turnover rate in positions that were recently hired?
Huge backlogs in IT
Does your inhouse IT team feel overwhelmed and unable to keep up with routine updates and support?
If you've noticed any of these trends in your own organization, it's time to act. And Altera has a positive track record of helping organizations bring their staffing processes to new heights.
Proven results at PIH
A prime example of how we've helped organizations overcome staffing shortages is with our client PIH Health. A regional nonprofit healthcare network, the system serves more than 3.7M residents in Whittier, California, and the surrounding counties. Since the early 2000s, PIH Health and the Altera Managed Services team have been partners, united by the shared mission of helping the hospital achieve all of its business objectives. During that time, PIH reduced its no-show rate by 27%, doubled its average pre-visit payment collections and seen a 42% improvement in check-in completions prior to a visit.
But the relationship was elevated even higher during the COVID-19 crisis. PIH needed to quickly pivot toward telemedicine and expand its reporting capabilities. Altera's Managed Services team was there, helping the PIH team implement a new telehealth solution in record time, providing iPads to patients and clinicians so they could still connect with family members during visitor restrictions and expanding its EHR capabilities to better capture COVID-19 documentation and reduce the need for order and data entry.
Whatever challenges your organization might face, you don't have to face them alone. At Altera, we're committed to partnering with hospitals and practices to achieve more every day, and this includes assisting with problems created by unexpected circumstances.
Reducing organizational bottlenecks
Because healthcare is such a complex industry, it can be challenging to pinpoint what exactly is adding friction to an organization. One area to consider is patient flow performance, as this affects patient safety and the patient experience, the clinician experience and even the financial health of health systems and other organizations.
These are just a few signs that organizational bottlenecks may be hindering patient throughput:
Hallway healthcare (or "corridor healthcare") is one signal that a hospital needs to make adjustments to improve patient flow. As suggested by its name, hallway healthcare happens when clinicians see patients in non-traditional locations within their facility, such as a hallway, because empty beds are not available. A few contributors to this issue include rising staffing shortages, an increase in emergency department visits and the growth of the aging population. As hospitals near capacity, they may resort to hallway healthcare out of necessity. For example, when occupancy exceeds 85%, the median ED board time can be as long as 6.58 hours.
Hallway healthcare can threaten patient safety by increasing the likelihood of disease transmission. Additionally, it can compromise the patient's privacy, comfort and overall experience at an organization.
Cold beds are another sign an organization likely has a bottleneck problem. This issue happens when staff members aren't aware that there are empty beds available for patients, so they go unused. Cold beds often result from breakdowns in communication. For example, if a hospital manually tracks housekeeping processes, appropriate staff members may not know when beds are clean and ready for the next patient. Bed gridlock is a challenge for many hospitals, and cold beds only make matters worse by slowing patient flow.
Reactive decision-making can signify that there are preventable bottlenecks to remove. If leaders have to make decisions on the fly based on current operational performance, there is a lot of room to misalign staffing and resources to demand. When leaders are able to compare historical trends to real-time data, however, they can remove friction and speed up patient throughput by making more informed decisions.
Regaining control of patient flow with health IT
Organizational bottlenecks are a real hindrance to productivity, but there are technology-driven solutions organizations can implement to break down these barriers. Altera Patient Flow™ with Census Logic helps organizations ensure patients receive the right care, at the right time, in the right location. This integrated suite of solutions for bed management, housekeeping and transport operations leverages predictive analytics to optimize all aspects of patient flow: capacity planning, discharge forecasting, communication and resource utilization. Patient Flow with Census Logic provides various teams and leaders with the information they need to make data-driven decisions.
One organization finding success with Patient Flow with Census Logic is Hendrick Health System, a leading healthcare provider serving the Texas Midwest for more than 90 years. Hendrick implemented the solution in February 2020 to help streamline the flow of patients and enhance the overall patient experience across the enterprise. For example, it helped improve the quality of care experienced across the system's ED through its integration of Patient Flow and the Sunrise ED tracking board. Further, features from automated triage for the ED to team member tracking for environmental services enable Hendrick's clinical and housekeeping staff members to work together more efficiently and cohesively.
Additionally, Precilla Camacho, nurse manager at Hendrick, says the solution's "ability to personalize has been very helpful in tracking metrics along our three-campus system. Based on the data obtained, we have been able to strategically guide what our system needs are."
Learn more about how Altera is improving patient flow at Hendrick here.
Clinical data is crucial to a wide range of healthcare roles, from the exam room to the business office. And while healthcare IT has advanced significantly over the last few decades, there is still plenty of room for improvement when it comes to the free flow of clinical data across the care continuum.
According to a HIMSS Media survey, just 37% of IT and business professionals say their hospitals or health systems are able to share data with other health systems. Even intraorganizational data-sharing remains challenging for many, as just 69% of respondents report they can successfully share data within their organizations.
Here are a few key reasons seamless interoperability between health IT systems and applications remains a worthy pursuit in the industry:
Driving data-sharing success True interoperability is not the reality for healthcare organizations around the world, but there are technology solutions bringing the industry closer to that ideal. For example, based in Pittsburgh, Pennsylvania, UPMC is finding success with the dbMotion™ Solution, Altera's interoperability platform.
UPMC is an integrated healthcare enterprise with more than 40 hospitals and 800 doctors' offices in Pennsylvania, New York, Maryland and outside the U.S. The organization launched dbMotion to drive interoperability between its inpatient and ambulatory areas, which leveraged two different EHR systems. Not only did dbMotion drive greater connectivity between the EHRs, but it also enabled UPMC to integrate 78 different data sources in total and harmonize this information. Read more about UPMC's decade of interoperability success with dbMotion here.
UPMC also deployed a solution called Altera Context, which delivers clinicians intuitive and rapid access to all authorized applications—helping streamline patient selection and overall workflow efficiencies. UPMC went live with a rollout to more than 25,000 desktops, at more than 25 sites with 19 applications, saving clinicians' time, preventing costly clinical errors and improving patient safety.
Interoperability on a national level
Similarly, dbMotion is connecting multiple health systems for Clalit Health Services, the largest provider of public and semi-private health services in Israel. Clalit Health Services serves more than 4M patients in the country, and its hospitals and clinics are widely dispersed. The organization previously experienced challenges stemming from having dozens of disparate EHR systems and needed a way to ensure complete medical records would follow patients through the system.
After a pilot at one of the organization's hospitals, dbMotion was implemented throughout Clalit Health Services using a common framework that forms the backbone of the Ofek Network. Following Clalit Health Services' success with dbMotion, leading hospitals outside the organization adopted the solution and asked to join Ofek. Eventually, Israel's Ministry of Health signed a contract to implement the Ofek Network in all other HMOs and hospitals in Israel, bringing unprecedented levels of connectivity to healthcare organizations across the country.
"We're very proud of being the first and only country to implement such a solution in a national way," says Ludovic Abraham, chief technology officer at Clalit Health Services. "It's a critical information system that our doctors can't imagine being without."
Click here to learn more about how dbMotion has expanded the reach of healthcare facilities across Israel and underpinned new levels of patient care.
Let's connect
Discover how we can partner with you and, together, ascend to new heights in healthcare delivery.
Insights
Learn from thought leaders and industry experts on today's most pressing healthcare topics, including value-based care, interoperability, reimbursements, genomics, and more.
Pressure on clinical staff is felt across the globe—something I have personally witnessed during my clinical practice over the last…
Burnout in healthcare professionals has been an ongoing concern for years and the COVID-19 pandemic has only compounded the problem.…
The U.S. Department of Health and Human Services recently announced it will allocate $103M to fund programs that alleviate burnout…